Flower Essence Therapy is a vibrational therapy, not to be confused with aromatherapy or essential oils. While there is no fragrance to the flower essences, a vibrational essence is a liquid that holds the vibrational imprint of a flower.  The essences are traditionally used to treat underlying negative emotional and mental states.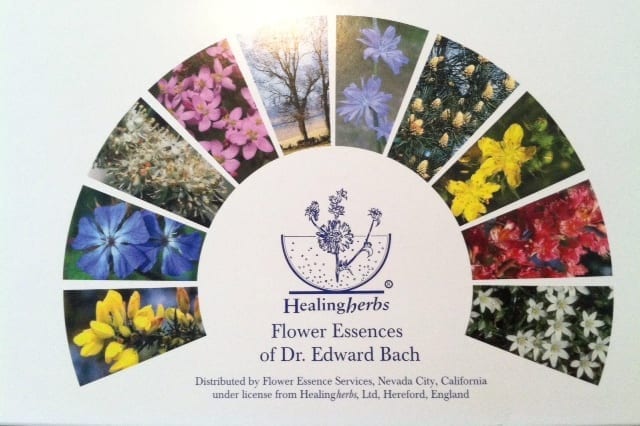 I use English Flower Essences prepared according to the original indications of Dr. Edward Bach, and made from the same 38 flowers used by Dr. Bach.  From those 38 flower essences I combine up to five to formulate a custom flower essence specifically made for you.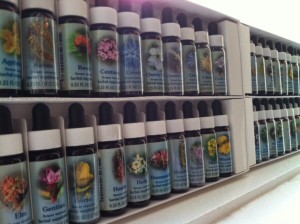 Here are a few examples of what flower essences are traditionally used for.
Elm (Ulmus procera): For feelings of being overwhelmed by personal or work obligations.
Impatiens (Impatiens glandulifera): Impatience, irritation, intolerance and pain due to resistance in the body
Pine (pinus sylvestris): Self blame and guilt issues.
Mimulus (Mimulus guttatus): Over-exaggerated concern for daily life events.
Olive (Olea europaea): Extreme exhaustion or physical collapse usually due to extreme demand on one's physical forces.
Star of Bethlehem (Ornithogalum umbellatum): Shock or trauma, either recent or from a past experience.
From the book Advanced Bach Flower Therapy: A Scientific Approach to Diagnosis and Treatment
, by Gotz Blome, M.D.
under the heading Thyroid Problems:
"The thyroid transfers emotions into bodily functions.  We become ill when this does not happen successfully.
hyperactive thyroid, with glassy eyes, nervousness, restlessness, shaking, thinness
Cherry Plum for strong, suppressed emotions and sexual drives
Impatiens + Vervain for severe nervousness and hyperactivity
Oak whenwe are grim and put too much pressure on ourselves
hypoactive thyroid, characterized by reduced activity with slowness, lethargy, weakness
Clematis + Wild Rose for lack of enthusiasm and drive, drowsiness, and lack of interest in life
Hornbeam for weakness and a permanent feeling of stress and overwork"
Note to the reader: This information is intended as an informational guide.  The remedies are meant to supplement, and not to be a substitute for, professional medical care or treatment.  They should not be used to treat a serious ailment without prior consultation with a qualified health care professional.
If you are not able to see me in person, you may order here and email me the the names of five essences you would like in your formula.  If you are uncertain of which essences to include, you will find a handy questionnaire on the payment page.  The cost of a 1 oz formula is $15. The essences are preserved in a brandy and spring water mixture.
Traditional dosage is four drops under the tongue three times a day.  You may also add them to your bath water or put them directly on the body.
Books on Flower Essence I recommend:
Floral Acupuncture: Applying the Flower Essences of Dr. Bach to Acupuncture Sites
 Very cool book on applying flower essences to acupuncture points.
The Encyclopedia of Bach Flower Therapy
The Bach Flower Remedies
New Bach Flower Body Maps: Treatment by Topical Application
  This one is great because it shows you a map of the body and which flower essences to apply where.
Flower essences are used for pets as well. Animals are sensitive to alcohol so diluting is recommended. I once had a kitty who was afraid of everything.  One day she started hyperventilating when another cat came into the yard.  I put the flower essence formula I made for her on her spine and she stopped hyperventilating on the spot.  After a few treatments she started chasing cats out of the yard!  Here is a book specifically for cats.  There is also one for dogs, horses and birds.Bach Flower Remedies for Cats
The Food and Drug Administration (FDA) have not evaluated these statements.  These formulations are not intended to diagnose, treat, cure, or prevent disease.  Consult with a health care provider when necessary.