Obviously, which boot you choose depends on your Winter climate and your current foot health. I looked for boots that are flat, flexible, have wide toe box with minimal to no toe spring. Not all of the boots meet all of the criteria, but at least they're headed in the right direction. Also, it's worth pointing out that not everyone is ready for a minimalist shoe. If you want to transition wisely to a minimal shoe, I recommend starting with Whole Body Barefoot: Transitioning Well to Minimal Footwear
 by Katy Bowman.
Vivobarefoot Women's Kula
reported being flat, warm, flexible puncture-resistant sole, grip the ground and move as nature intended.
Vivobarefoot Women's Karma Boot
. As reported by someone who owns a pair: "The Karma is unbelievably comfy, but they do run a little small – as confirmed by other Amazon reviewers, too."  So, you might want to order a size up.
Vivobarefoot Women's Gobi II Hi Top Faux Shearling Winter Boot Flat, flexible, feel the ground beneath you.
Minnetonka Boot
 Someday you will be mine, my sweet little moccasin boot. "I will find you…no matter how long it takes, no matter how far. I will find you." — Daniel Day-Lewis to Cora, before jumping through the waterfall in The Last of the Mohicans.  …Also said Barbara to the boot. Ok, these are a bit narrow, but I'm hoping they will stretch out since they're suede. If you have tried them, please let me know.
Minnetonka Women's Ankle Hi Tramper Boot
 looks
flexible but has a .5 inch heel and narrower toe box. It might work well for someone with a narrow foot who is transitioning to a flatter shoe. The report is that they are a tad wider than the Minnetonka boot listed above, but still on the narrow side. Ok, I know these may not be Winter boots to some, but again it depends on your climate.
Vivobarefoot Women's Waterloo Rain Boot. These are cute, flat and flexible, but the toe box looks too narrow! I'm including them here in case you have a narrow foot.
Croc's RainFloe Boots If you are looking for a rain boot with a wider toe box. These should work, even with your Correct Toes™. The downside is that it does have a little toe spring and a little heal elevation.
 Croc Jaunt lightweight, flat sole and wide toe box
OTZ Troop Shearling Boot
 Wide toe box, zero drop, no toe spring and flexible!  They are a little more pricey, but they are on my wishlist for sure!
Vivobarefoot Women's Ella
 zero drop, flexible and wide toe box

Manitobah Mukluks Women's Buffalo Dancer Snow Boot
 Vibram soles.
Columbia Women's Minx
When I buy shoes I look for a totally flat shoe (zero drop), flexible (lets my foot be a foot), no toe spring (shortens top of the foot) and most important to me is a wide toe box so my toes don't get squished (leading to bunions and pronation). Rarely can I find all four qualities unless I buy minimalist shoes, but then I won't get the good traction or warmth in the winter. These Columbia Minx offer warmth and traction, but the insole has about an inch high! The ball of the foot is about 1/4 inch, so my heel is elevated about the ball of my foot by 3/4 of an inch. If you take out the insole, these appear to be zero drop. They're flexible even with the shoe liner and from what my friend who owns a pair says they get more flexible over time, which is a plus for me. There is a little toe spring (seems tough to avoid in most shoes). I can fit my feet in the boot while wearing my Correct Toes™ without squishing my feet, but just barely. They have just the right amount of room without the liners. Check out how they measure up to the shoe liner test (see below); I'm spilling over the edge a bit. Ideally, your foot should not spill over the edge of the liner. For reference, the widest part of my foot is 4 inches and I ordered the size 8 boot. I wish these were sold in wide or did not have a tapered toe. Pros: Warm (-25 degrees F), flexible, waterproof and zero drop without the liners, light, good traction. Cons: elevated heel, toe liner, a tad narrow, has a toe spring. Update: after a year of having these, I still love them. I've walked miles in them without discomfort.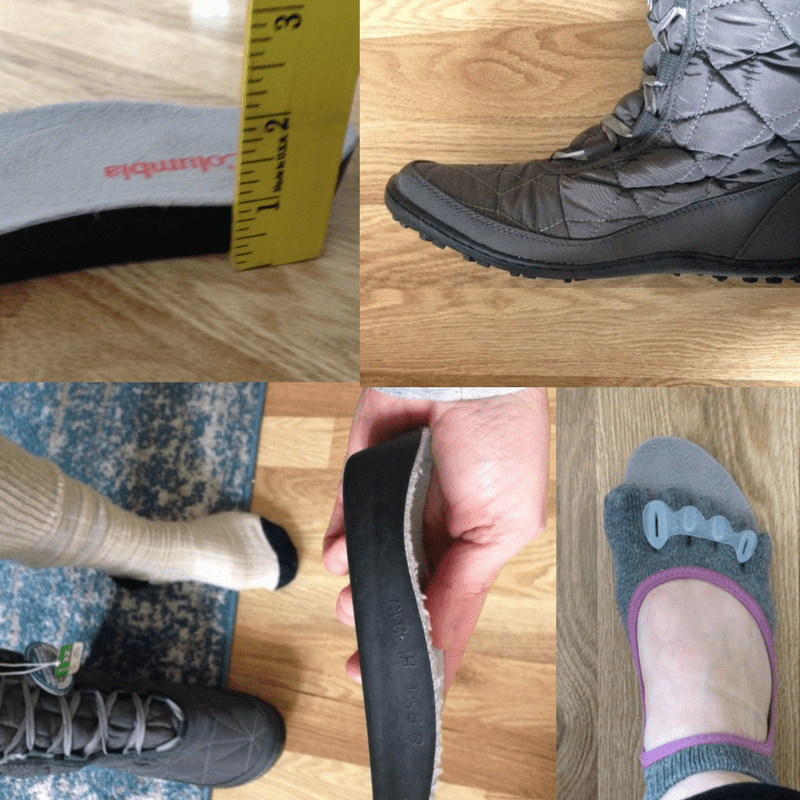 Vivobarefoot Women's Gobi II Hi Top Faux Shearling Winter Boot These are reported to be warm and are zero drop. The toe box is tapered but is reported to have a wide toe box.
Ugg Classic has a wide toe box (usually wide enough for wearing Correct Toes™), but has a 1/2 inch heel elevation.
I'm a participant in the Amazon Services LLC Associates Program. When you shop through the links or banner ads on this blog I make a small commission and you help support my blogging efforts. Thank you!