The purpose of this article is not to dwell on the past but to share our wisdom with younger women so that they may create a healthier relationship with their bodies and cycles. So please add your wisdom in the comments and share the article with young women you know.
Periods aren't supposed to be painful. Pain and dysfunction are healthy responses to an unhealthy situation. Pain is a way your body communicates with you. Listen to your bodies wisdom. If you have painful periods, your body may be telling you to get more sleep, eliminate dairy or sugar, include more healthy fats and greens in your diet, move more or perhaps there is something structurally going on. You may potentially have around 450 periods in your lifetime! Your cycles can be a sign of your overall health, so it's worth tuning into that wisdom earlier than later.
Barbara Loomis
It seems very common for women to feel a loss of personal power as soon as they step into a medical office.  Often practitioners facilitate this power play because they are busy, or because of the formality of the clinic, or just because of a lack of reflection on, or awareness of, the patient's experience. Having ample time to talk (while clothed) with the practitioner ahead of an exam can help to neutralize this power dynamic.  Many women who seek out professional help to manage gynecologic symptoms will find it helpful to enter the clinic with a list of questions and expectations.  No questions are bad questions!  (I didn't understand was a period even was – not to mention a pap smear –  until I started volunteering at women's health clinics.  I think that lack of knowledge is sadly common, in part because we don't know to ask.)  If a woman feels nervous about a pelvic exam and finances allow it, she can consider making her first appointment for a consultation only, allowing for time to get to know the practitioner and to express concerns and ask questions.  Often practitioners are really limited by time, so having an appointment to just sit and talk helps to encourage a more leisurely conversation to make sure that you are getting your needs met.  Remember that it is your appointment, and you are the one in charge of the discussion and the exam!
Dana Mozer
On average, a woman receives her first pelvic exam at age 21 (unless they're having symptoms). For instance, I got my first pelvic exam at age 16 because I had unusual discharge (white cottage cheese looking discharge) that ended up being a yeast infection. I would have gone in earlier if I had known this particular type of discharge was a sign of an infection. But of course, no one educates you about that sort of thing! …until now. So other things I wish I were told when I was 15 is that it's important to know that some types of discharge may be signs of imbalance (see video below).
But the first thing you should know is it's completely normal and a good thing to have vaginal discharge show up on your underwear. When I first noticed stuff on my underwear, I was perplexed and too embarrassed to ask questions. As Dana mentioned above, don't be afraid to ask questions!
It's normal to have vaginal fluid on underwear. It's a result of a healthy bodily function. Click To Tweet Barbara Loomis
I want young women to know the value of hormonal cycling. It's not about the menstrual bleed per se, but rather about the underlying process of ovulation. Ovulation is beneficial because it's how we make our essential female hormones estrogen and progesterone.
Dr Lara Briden, ND
I think the biggest thing I want everyone to know about periods is that they don't *have* to be painful, they can be completely painless and are powerful signs of what's going on in our bodies!
Lana Friesen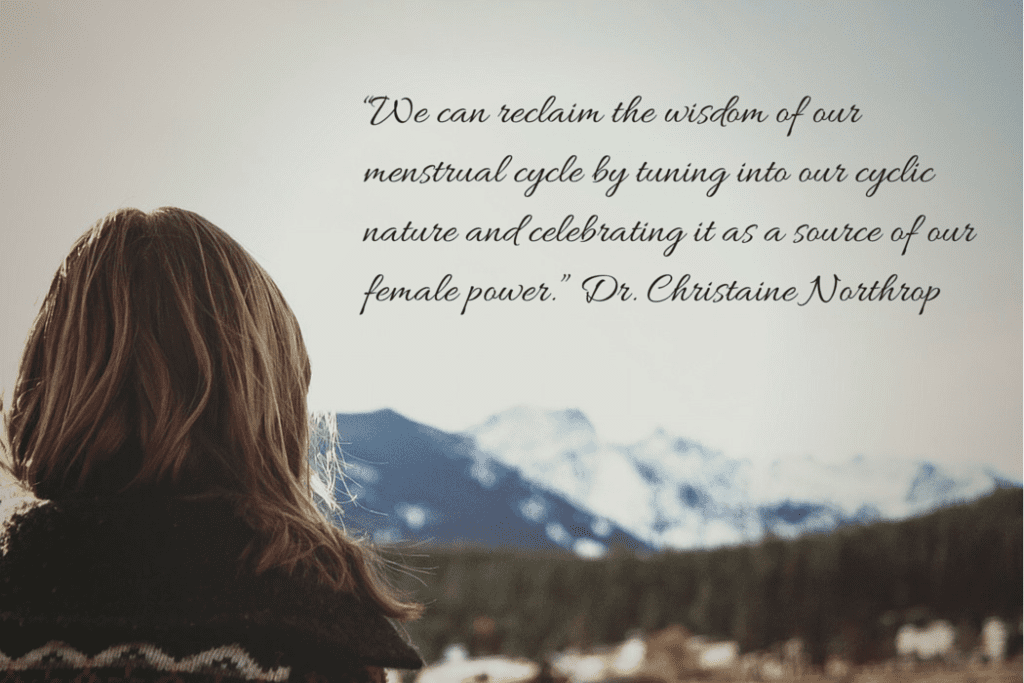 "Don't be afraid to seek out advice or help and to find people or resources that can help you understand your anatomy and physiology."-Fiona
"There is no normal, normal is a setting on the washing machine." -Fiona
Fiona also encourages people to look at the Labia Library (http://labialibrary.org.au/) to get an idea of the great diversity out there.
"Whatever you experience, millions of others do too."  Dave, Fiona's period-positive friend.

Uteri are pretty cool once you get to know us. -Margo the Wandering Womb
Click To Tweet
Your body cycles through the four seasons every single month! Your bleeding time represents Winter, it's a sacred time to turn inward, slow down, walk in nature, nurture yourself and sleep more! Nothing in nature is meant to bloom all year round, it's okay to slow down. Start some kind of monthly ritual that you can look forward to. Get off Facebook, do something artistic, keep a dream diary, make your favorite herbal tea and curl up with a good book. …and stop hating on us! Uteri have feelings too!
Margo The Wandering Womb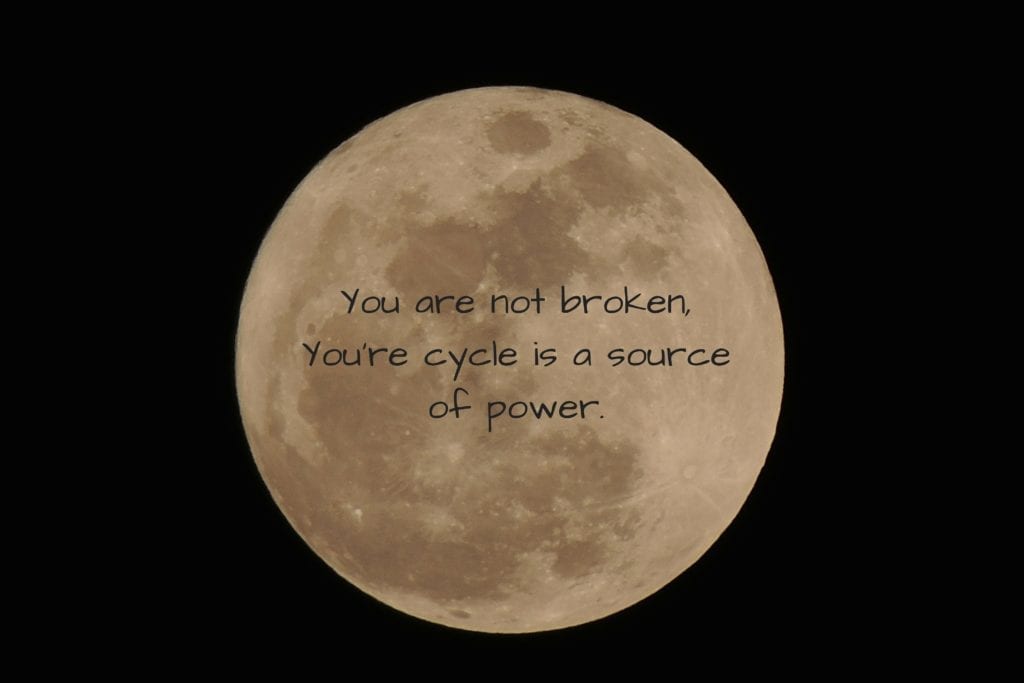 I'd love to hear what you wish someone would have told you when you first started your period. Your comments may help others to not needlessly suffer or feel embarrassed. It may also help young women shift to a more period positive attitude once they see how magnificent their bodies are.
Moon Mother, Moon Daughter Myths and rituals that celebrate a young menstruaters coming of age.
Cycle Savvy: The Smart Teen's Guide to the Mysteries of Her Body
Boy oh Boy, I wish I had read Sweetening The Pill when I was 16! If you are thinking about going on the Pill, please read this first. By the way, The Pill won't fix your cycles.
"Millions of healthy women take a powerful medication every day from their mid-teens to menopause – the Pill – but few know how this drug works or the potential side effects. Contrary to cultural myth, the birth-control pill impacts on every organ and function of the body, and yet most women do not even think of it as a drug.
Depression, anxiety, paranoia, rage, panic attacks – just a few of the effects of the Pill on half of the over 80% of women who pop these tablets during their lifetimes."
Period Repair Manual is another gem!

Period Repair Manual is your guide to healthier periods. It is a practical, user-friendly manual suitable for women of every age.
Disclosure: I'm a participant in the Amazon Services LLC Associates Program. When you shop through the links or banner ads on this blog you help support my blogging efforts.