I'm Barbara Loomis A.K.A. Alignment Monkey. Nurturance, LLC is my business based in Portland, Oregon. Alignment Monkey is where I write about alignment, natural movement, tipped uteri, and natural reproductive and digestive health solutions. This is a blog about the human body and function and is not a medical advice blog.

You may be wondering why a blog dedicated to reproductive and digestive health is called Alignment Monkey. I started the Alignment Monkey blog several years ago as a way to share self-care tools and anatomy and physiology education. I chose the word Alignment because I study the effects of alignment (or lack of alignment) on whole body health and function. Alignment also represents my desire for my heart, head, and body to move in alignment with my soul's desire. I chose the word Monkey because I like to be silly (as you will see in some of my videos), my Chinese astrology sign is the Earth Monkey and my husband calls me monkey, especially in regards to my wrestling style. So, Alignment Monkey was born.
About Me
That's me (the one on the right) with Margo the Wandering Womb whispering in my ear.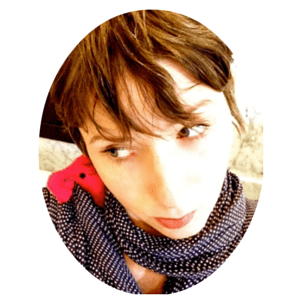 In addition to being a passionate student of anatomy and physiology, I'm an avid learner of herbal medicine and natural movement. I have a heartfelt enthusiasm for teaching people how to care for their reproductive and digestive organs. What lights me up is to see people connect with the inner beauty and wisdom of their bodies.
Fast Facts
19 years experience and training as a licensed massage therapist (license #6509)
Practitioner and educator of the Arvigo Techniques of Maya Abdominal Therapy®
Certified Chi Nei Tsang practitioner
Wise Earth Ayurveda Women's Health
Nutritious Movement™ certified Restorative Exercise Specialist
Reiki Practitioner
Maya Spiritual Healing
Flower Essence Formulator
Craniosacral Therapy 1-Upledger Institute
Functional Methods (low force Osteopathic Techniques)
Anatomy of the Abdomen and Pelvis; from basics to clinic by Universiteit Leiden & Leiden University and Medical Center on Coursera
Visceral Manipulation™ -Barral Institute

VM 1-Abdomen Liver, Stomach, Intestines
VM2- Spleen, Kidneys
VM3- Pelvic Organs
VM4- The Thorax
VM5- Manual Thermal Evaluation
Listening 1 (Osteopathic evaluation techniques)