The following article and videos are Patron supported. Thank you, Alignment Monkey Patrons! I wouldn't be able to produce as many educational videos and articles without your support! To learn more about becoming an Alignment Monkey Patron click HERE.
The intent of this post is to demonstrate the use of moxa in a Tiger Warmer on the Child's Palace (Zi Gong) acupuncture points. This is a wonderful treatment when applied by a practitioner or as a self-care technique to be done in between acupuncture or abdominal therapy appointments. I love how this treatment makes me feel! Clients have reported feeling the soothing heat travel through the meridians as well as a comforting warmth throughout the pelvis and pelvic floor. These points are traditionally used for fertility enhancement, prolapsed uterus, and irregular menstruation. These points are also used for blood stagnation that can lead to uterine fibroids. Other conditions of blood stagnation according to Chinese medicine are PCOS and endometriosis. Moxibustion is not meant to replace medical care, so if you are experiencing any of these symptoms please seek the advice of a trained medical professional.
To find the Child's Palace points. Andrea Weber, LAc, MAcOM at Well Within explains Child's Palace is equilateral triangle down from the belly button-the width of the woman's smile. 🙂 How sweet is that?  It reminds me of the smiling down to your womb meditation I teach after women complete their self-care massage. I'm sure the two combined would be a powerful practice on so many levels! By the way, if you're ever in Gresham, Oregon make an appointment with Andrea, she is fantastic and does lots of different modalities.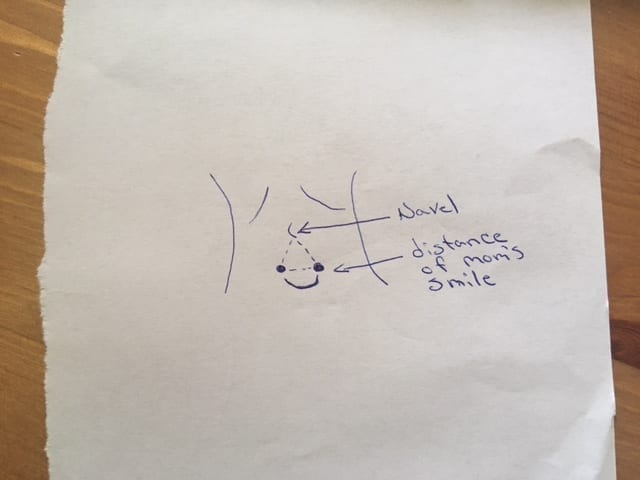 Personally, I like the "mom's smile" measuring system, but if you want to practice the Cun measuring system I've explained how to find the points below.  Zi Gong is found 3 Cun from the midline and 4 Cun down from the navel. A cun is a measurement used to locate acupoints on the body. In general, one cun is equal to the space between the distal interphalangeal joint and the proximal interphalangeal joint in the middle finger (see image below). Everyone's body is a different size and proportion so using a person's own finger size is a way of using their inborn measurement system. Of course, you aren't going to pick up a person's hand and move it around their body like a measuring tape, so if you are doing acupoints on someone else, take a look at their hands and do your best estimate. Don't worry about being exact, using the moxa stick allows for some flexibility because the heat radiates out a bit.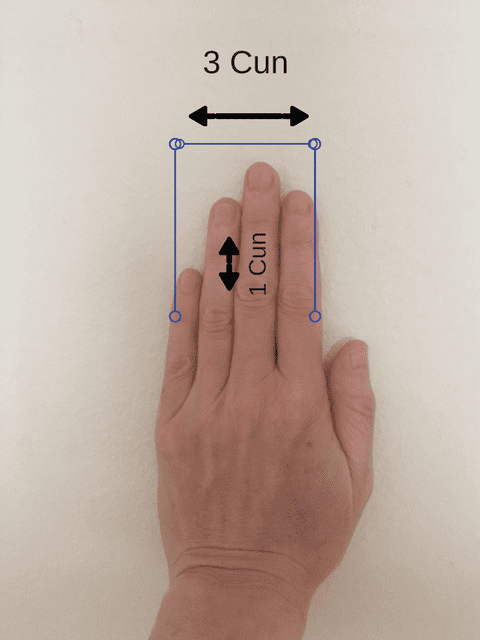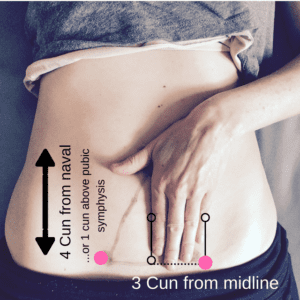 Ok, now for the video demonstration. First, I'll explain how to use a Tiger Warmer and then I'll demonstrate how to use it on the Zi Gong points. Keep in mind, the following demonstrations are for informational purposes only. Please seek the help from an acupuncturist who can teach you in person how to administer the treatment.
Equipment:
small Tiger Warmer (not a Lion Warmer)
Small Moxa Sticks.The sticks I have are smokeless moxa. The size is 3.5″ X 0.15″ (9X0.4cm)
Lighter
Moxa Extinguisher/ash collector an ashtray will work as well.
May use a pillow case between skin and moxa burner if your skin is sensitive, numb or thin.
Recommended reading for professionals: Moxibustion: A Modern Clinical Handbook 
Cautions:
Use common sense, you are working with a hot ember.
Do not administer on numb areas. Work with a trained practitioner if your skin is numb.
Do not use Moxa on the belly or low back during pregnancy. Consult a Chinese medicine practitioner if pregnant.
Do not leave burning moxa stick unintended
Always make sure the spring is in place
Use a sheet between the skin and Tiger Warmer if you or your client has thin skin or is very sensitive.
Make sure moxa is extinguished completely in the proper moxa extinguisher when you're done with the treatment
Do not do this with kittens or baby goats in the room.
in the video below, I mention tapping the ash into an ashtray. But ideally, a better way would be to gently rub the burning end inside of a moxa extinguisher, which will be quieter than tapping and would dislodge the ash without cracking the moxa stick.
The following is a Patreon Supported Video. To become a patron, please visit my Patreon Page.