Before I started Restorative Exercise™  my clavicles formed a wide V formation.  V formations help boost the efficiency of migrating birds and in aircrafts in military flight missions.  However when it comes to clavicles, a V formation negatively affects your neck, shoulders, breathing mechanics, upper body and core strength.  This is how my clavicles were mal-aligned last year (see photo below).
Here are a few things I did to restore my clavicles to the horizontalish position (I'm still working on it, but I'm impressed with the results so far):
I stopped using my trapezius (traps) for things I didn't need my traps for, like brushing my teeth, and drinking tea. Read Want Traps with That by Katy Bowman.
I stopped leaning on my elbow.
I'm working on being able to sleep on my back without a pillow rather than my side, when I do, it's my best sleep ever.  My V formation is worse in the mornings due to sleeping on my side with my shoulder all crunched up around my ears. That's when my headaches are at their worst.  Not that side sleeping is bad, it's just not the best for me all the time, especially since I'm trying to get out of the hunched up position.  Sometimes side sleeping is a must, for instance during pregnancy, or if you're cold, or just want to protect your vital organs from a grizzly bear attack. In that last case it may be wise to keep a gun under your pillow.  Ideally, I'd work up to not using a pillow, but my body has adapted to 43 years of pillow using, so I'll gradually make the shift.  Read Katy's post on your pillow is an orthodic for more pillow talk. Update: 02/19/14 I had the best sleep on my back in the hammock position (hands behind my head) without a pillow.
I have been working on getting my arms out of internal rotation by lengthening my pecs and changing my internal-rotation-gorilla-like-habits.  Internally rotated humeri (upper arm) elevates the shoulder.  Try it, internally rotate your upper arm and see what happens to your shoulder altitude.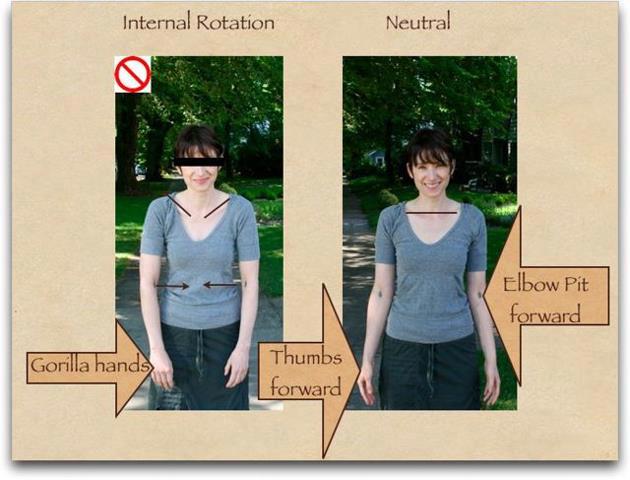 I strengthened my latisimus dorsi.
Resistance bands with handles are very handy tools to have.  You can get an attachment that hooks into the door so that you can adjust the level and do pull downs, rows, presses, roll downs,  and much more.  Each color is a different resistance, so getting a set to change bands depending on the exercise and increasing strength level is a good idea. This set has it all: Bodylastics 12 pcs Resistance Bands Set
I also use the Lifeline Usa Fit Assist Pull up Push up Trainer
to help with my pull-ups.  This allows me to isolate the correct muscles while doing a pull-up and avoid looking like a pathetic weakling.  See video here.
I put on a scarf when I go out in the cold.  Listen to your grandma! If you are cold, you will hunch up your shoulders and your neck will disappear.
I hang from a  Doorway Pull-Up Bar
  several times a day. Take breaks from working on your computer at least every 40 minutes to hang from your pull up bar.  I put a timer App called Time Out on my computer.
I do the exercises in the "Can't get Enough of Shoulders"  and "A Real Pain in the Neck" Alignment classes.  (click on banner below).  These are highly effective short classes that you can download to  your computer and watch anytime you want.  They are a bargain at $5 a class.
If you liked this post, please "LIKE" and "SHARE" with your neckless friends.
When you shop through one of my Amazon links or banners, you help support this blog.  Thank you for clicking through.
Update: Want more exercises to help with clavicle position? Here is a great post by my friend Susan McLaughlin, PT, RES on getting your shoulders out of the rounded position.
Leave a Reply
, 10